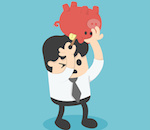 Fair Business Loans: An alternative lender for small business loans
If you are finding it hard to find an unsecured business loan then you are not alone! Bank of England data shows that from 2012 to 2015 the amount of lending to UK businesses fell in each year. In March 2016, the Bank of England data indicated that £599bn was lent to smaller businesses in the final three months of 2015, down from £755bn in the three months July to September.
Since then it has been a rather mixed picture. The big banks have an economic policy to increase the flow of lending to SMEs because this is seen as critical to economic recovery due to the contribution of SMEs to employment, income, and innovation. So, in theory loan applications from SMEs should be welcomed by the big banks. Indeed, there are now indications that the rate of contraction is falling.
However, in the first quarter of 2016, SMEs made 10% fewer loan applications to banks than the same quarter in 2015. Of these applications, 81% of applications from smaller businesses were approved as were 90% of applications from medium businesses. Although these approval rates are 2% higher than in the first quarter of 2015, the number of applications is lower than 2015. So whilst there is an upward trend in banks approving loans there is still not the overall increase that might be expected.
It has been argued that one reason for this could be the closure of hundreds of UK bank branches over the last three years. According to research by Move Your Money, these closures have cut the amount of lending to small businesses in some areas by 50%. Major banks including HSBC, Barclays, Royal Bank of Scotland and Lloyds Banking Group have been closing branches nationally to cut costs and focus on online and mobile banking services.
There are various other types of lending available such as P2P lending which is continuing to grow. P2P - or Peer To Peer - lending is the practice of lending money to individuals or businesses through online services that match lenders directly with borrowers.
Other alternative lenders exist but can sometimes be costly. According to Biz2Credit CEO Rohit Arora: "Alternative lenders have steadily lost favour among small business borrowers, in large part because their cost of capital is so high. Credit-worthy borrowers can typically secure better interest rates and terms from other types of lenders. Alternative lenders still have some appeal for borrowers whose credit scores might be low."
Many alternative lenders also require you to provide some kind of security for a business loan - such as property or invoices - which is not always possible or desirable for a small growing business.
So where does this leave you if you are a small business owner looking for an unsecured business loan to grow your business, but are unable or unwilling to deal with a bank or an alternative lender, and reluctant to use P2P? The best thing to do is to find a lender who is smaller than a big bank but who is also prepared to offer a "no strings attached" loan at a competitive rate. That may seem too good to be true - particularly if you have had credit issues in the past as many small business owners have, through no fault of their own. But such lenders do exist!
At Fair Business Loans we are not just a financial services business but we are passionate about revolutionising financial services to give everyone a fair chance! We are committed to providing high quality products and services that are both affordable and accessible, and are aimed at meeting the needs of people who are financially excluded.
At Fair Business Loans we believe that:
Customers deserve a fair deal
Products and services should be simple and accessible
Financial advice should be honest and trustworthy
Credit should be affordable for all
Profits should be reinvested for the benefit of customers
If you would like to know more about us and about how we may be able to help you then why not get in touch with us today to discuss your business needs? You will find our approach refreshingly different and we may just be the financial solution you have been looking for!