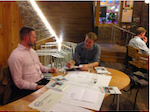 Fair Business Loans is a UK-based company that provides funding for small businesses who may be finding traditional funding hard to come by. We were delighted to recently support a Finance Fair as part of the #StartupSeason series of business events for new social ventures. The series is being run by ImpactHub, an innovative global network of like-minded people who are achieving impact in their chosen area.
Fair Business Loans is already having considerable impact in the area of funding for small businesses in London! Fair Business Loans provide small business loans of between £2k and £20k to London-based businesses that have been trading for 12 months or longer. We cover all industry sectors and our small business loans can be used to fund a wide range of purposes.
Senior Business Loan Officers Mike Guellard (on the left in the picture) and Romy Miyashiro from Fair Business Loans spent the evening talking to new businesses about the alternative funding options available. The Finance Fair brought together entrepreneurs and key organisations in the investment scene. As well as Fair Business Loans, Seedrs, Crowd Cube and Big Issue Investment were also present. The format of the evening was different in that each funder was asked to present why they are a good choice for small business loans. "Mike and Romy from the Fair Business Loans team were able to share their experience of helping nearly 200 applicants since launch. While the team could only lend to businesses with at least 12 months of trading history; they were able to let the entrepreneurs know they could they opt for a Fair Business Loan after their start ups phase if the banks weren't willing to lend."
Romy commented: "The attendees felt comfortable asking questions and commenting on their own business projects. We hope to hear from them in twelve months time when they have successfully implemented their ideas. We will be happy to help them in the second stage of their projects!"
Speak to Fair Business Loans today for hassle free, impartial, advice. You can call us on 0208 988 0627, email fbl@fairfinance.org.uk or visit us online at www.fairfinance.org.uk.