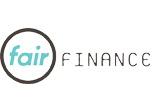 If you've been turned down for a small business loan, Community Development Finance Institutions provide an affordable alternative for businesses that slip through the funding gaps.
Here at Fair Finance, we help businesses obtain funding through affordable financial loans. Rob Benfield, head of business lending at Fair Finance, discusses when and how businesses can turn to us for alternative financing...
"We're not competing with banks," stresses Rob Benfield. "One of the first questions we ask clients is 'Have you talked to your bank about this?'. If they can access bank finance, that's the cheaper option.
"Where we come in," Benfield continues, "is where a business may have struggled to access credit from a mainstream bank."
FlyerCommunity development finance institutions (CDFIs) are not as well-known as they might be. For a start, they don't have the marketing budgets of their high-cost, profit-driven rivals. Secondly, they don't usually call themselves CDFIs.
But these not-for-profit lenders supported 9,300 UK businesses in 2013 and are an established feature in the lending landscape. There are currently around 60, each serving a particular locale. Fair Finance serves London, for example.
They provide affordable loans to individuals, businesses and social enterprises who have been turned down by banks – whether because of past financial difficulties, lack of assets to secure the loan or because they have not been trading for long. In making their decisions they take a quite different approach from most other lenders.
"We don't use credit scoring," says Benfield. "We use subjective lending and in-depth analysis. There are two criteria – character and affordability."
"'Character' is a personal assessment of the applicant by the loans officer, who meets them face-to-face. The applicant will be judged on their openness and honesty, cross-checked with other information."
"Then we do an affordability assessment. We'll ask for six months' bank statements, undertake a credit check and do cashflow modelling to understand if they can afford the repayments."
"We use all this information to talk to them so we can get comfortable with any issues from the past and so we can tailor the loan."
A market worth serving
The 'second bite' market served by CDFIs is not profitable for affordable lenders. Yet it is economically viable, as the low default rate on repayments reveals.
In 2012, industry umbrella body the Community Development Finance Association (CDFA) found that every £1 lent by a CDFI generated £7 of 'economic value'. This is because job creation in an area such as Wigan, for example, has greater economic value than job creation in central London. "There's weaker infrastructure," says CDFA chief executive Ben Hughes. "You're feeding a local supply chain and you're more likely to lift someone out of benefits."
A CDFA study, Mind the Funding Gap, also found that businesses, individuals and civil society organisations face a funding shortfall of £5.45bn to £6.75bn per year because of a lack of available, affordable lending. £1.3bn of the funding gap belongs to businesses.
"You need to get a sense of the drag on the economy that this level of under-investment is having," says Hughes. In 2012, CDFIs filled around £0.7bn of this gap, creating and protecting an estimated 17,000 jobs. But they are themselves under-funded and the CDFA is looking at new investment models for its members to increase the flow of money into this particular lending market.
"CDFIs potentially have a very strong role – if they can get the wider recognition that they are a distinct response to a distinct market," adds Hughes. "This isn't just about being an alternative, but serving the needs of distinctive markets in local communities in a high impact way."
A complement to banks
CDFIs are a complement to mainstream banks, not an alternative, says Benfield. "We don't provide bank accounts, so all our clients maintain a relationship with their banks. Through us, they can rebuild the stability of their business, improve their credit score and access cheaper mainstream, bank finance later on."
Most CDFIs also offer debt management advice and make a point of not adding to the debt burden of businesses through irresponsible lending. "We are going to do the right thing for the business" Benfield insists.
"Sometimes it's not the right thing for us to support a client. We either refer them or say 'If you address this issue, come back in three months and then we can look at supporting you."
"But my advice to any business is talk to your bank first. If they can't help you or you need additional finance, be aware that CFDIs exist and talk to them as the next option rather than the first high cost lender that bombards you with marketing information."
To find out more about CDFIs and their work, visit the CDFA website.
Fair Finance offers affordable loans and free debt management advice to London-based business owners.
This article was created for and published on the HSBC Knowledge Centre to raise awareness of alternative lending, backed by the banking sector, through CDFIs.