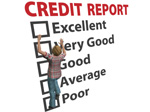 Credit Report Breakdown
Here at Fair Finance we don't base decisions on 'good' and 'bad' credit scores, instead we look into the content of your report and base all decisions on affordability. Here we will break down exactly how we use your credit report to make a decision.
So what exactly is a credit report?
The main purpose of a credit report is for creditors to see your financial record and assist them in making a decision.
A credit report has a record of your financial history this may include any loans, hire purchases, bank accounts, mobile contracts and credit cards etc.
These organisations will update various credit report agencies about your repayment and relationship with them and all this will affect your credit scoring.
Credit reference agencies are updated about any court orders, default accounts, active accounts and settled accounts.
They're also updated every time a company you applied for credit with does a credit search.
Here are some things that can affect your credit score;
Falling behind on payments to creditors will have a harmful affect
Being registered on the voters roll will help to improve your credit score
Doing too many credit searches may impact negatively
Defaulting on accounts drives down your credit score
Unlike many lenders who use algorithms to make loan decisions Fair Finance offers the customer a face to face interview to get an understanding of their personal situation. When we do your credit search we will give you the chance to explain the accounts on your report. We won't base the decision on your credit score.
There are a range of Credit Reference Agencies that are used by different companies. These include
Experian (Free trial for 30 days or purchase your report for £2)
Equifax
Call Credit
Noddle (Free)
If you are looking to access credit but are worried your credit score isn't good enough, why not come to Fair Finance. Don't hesitate to come by to an office or give us a call.