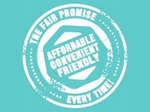 If you are browsing through this website with a view to applying for a small business loan from us, chances are you may not yet know much about us. There is a lot of information about our business loans process and philosophy on our FAQs page but we wanted to take the opportunity to highlight a few things here as well to help you get to know us better, faster! We will give you a quick overview of who we are, what we do, how much we charge and how we operate.

Who Are We?

Fair Business Loans is part of Fair Finance which was established in 2005 by social entrepreneur and CEO Faisel Rahman. Fair Business Loans offers funding for small businesses, particularly those struggling to meet the requirements of the mainstream financial services industry. We are committed to providing high quality products and services that are affordable and accessible. Wherever possible we work in partnership with other companies and agencies that share our goals.

What Do We Do?

Fair Business Loans offer small business loans from £2,000 to £20,000 to entrepreneurs unable to access mainstream finance for their businesses. All our loans are unsecured business loans. We only progress applications where the business has been actively trading for a minimum of 12 months at the time of application. However, if your business has been trading for less than 12 months then we are happy to assist by directing you to organisations that we work with who do offer start up loans.

Through providing small business loans in local communities Fair Business Loans helps to bring employment and needed services to these communities, helping to build local economies and create wealth and prosperity.

How much does a Small Business Loan cost?

A typical loan of £8,000 repayable over 24 months with a 28% interest rate and a 5% arrangement fee will have an APR of 35%. The total cost of the loan would be £10,625.20 which consists of the £8,000 loan, a £400 arrangement fee (5% of the loan amount) and £2,225.20 in interest. Repayments would be £426.05 per month in 24 monthly repayments.

The arrangement fee is only charged if a loan has been approved and you have accepted the loan. If a loan application is declined we will not charge you anything. The arrangement fee is 5% of the loan amount (minimum fee of £200). The arrangement fee must be paid to Fair Business Loans prior to us disbursing the loan to you.

How Do We Operate?

Our name says it all! We operate on a fair basis to provide small business funding where it is deserved.

We believe that:

Customers deserve a fair deal
Products and services should be simple and accessible
Financial advice should be honest and trustworthy
Credit should be affordable for all
Profits should be reinvested for the benefit of customers

Over the coming weeks we will explore each of the above principles in more detail and highlight why Fair Business Loans is a refreshingly different company for small business loans! But if you can't wait that long then why not contact Fair Business Loans today to find out more!