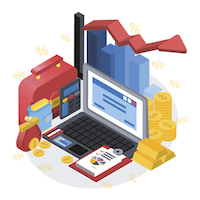 In the first three months of 2018 UK economic growth collapsed to just 0.1%. This is the weakest quarterly growth rate recorded since 2012 and down from 0.4% growth at the end of 2017. The annual growth of the economy to January 2018 was 1.2%, well below the five-year average of 2.2%.
These figures refer to the UK's GDP (Gross Domestic Product) as measured by the ONS (Office for National Statistics).
But what does this actually mean? Is this slowing economic growth likely to be an ongoing trend or was it just a blip?
The Chancellor, Philip Hammond, believes the latter. When these figures were announced at the end of April, he claimed that the economy was still strong. He attributed the low growth in GDP to external factors such as "The Beast from the East" in February and March.
However, the ONS disagrees, saying that this was only a minor factor. It claims that the squeeze on consumer spending power - due to increasing prices resulting from the slump in sterling in 2016 - coupled with concerns about Brexit next year are significant factors.
The ONS view was also supported by various economists, including John Hawksworth of PwC: "The UK remains firmly in the slow lane of global growth and these figures indicate a further loss of momentum in early 2018," he said, also highlighting the contrast in growth between the UK economy and that of the US and the EU.
According to Hawksworth: "It's clear to everyone except Philip Hammond that our economy is in need of increased investment and working families are struggling with the cost of living and the burden of increasing household debt."
Jeremy Cook, Chief economist at WorldFirst, put this another way: "It's not just UK voters who could call themselves the Jams (Just About Managing), it now seems that the wider UK economy is in that predicament too."
It will be interesting to see what the ONS figures for April-June reveal.
But what does all this mean for small businesses?
If the downward trend continues then it may delay any interest rate rise in the near future. This means that the cost of borrowing will not increase immediately so it could be a good time for you to consider taking out a small business loan if you are currently planning to expand your business.
At Fair Business Loans we are here for you in good times and bad. As a responsible lender, we will never encourage you to take on more debt than is wise for your business. At the same time, we have a passion for seeing small businesses grow, and if we agree that this is the right time for your business to do just that - despite any glitches in the economy - then we will help you every step of the way. Take a look here at just some of the businesses we have helped recently: businesses and people just like you!
So if you are looking for a small business loan between £5000 to £50,000 then why not apply with Fair Business Loans today?