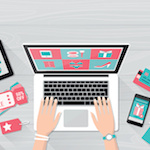 How have DirectID helped us to improve our small business loan process?
These days we do everything online! Recent findings from the Office of National Statistics found that in the UK:
82% of adults use the internet every day or almost every day
76% of adults regularly use the internet to find information about goods and services
60% of adults do their banking on the internet.
All of the above trends are growing rapidly, and as you would expect, Fair Business Loans is at the forefront of offering online facilities to customers applying for a small business loan.
However, we are also aware of the legitimate concerns that our customers have about online security. We have therefore teamed up with an organisation called DirectID that enables us not only to speed up our small business loan process for our customers but do it securely.
So, what difference does using DirectID make? The main impact is that during the online small business loan process you are able to connect to your bank account and share your bank statement information. This saves so much time! Applying for any kind of loan always requires your current financial information. This usually involves you having to print off bank statements - and then find a secure way of getting them to us - or having to request this information from your bank. Either way can be time consuming and potentially cause hassle. The lender then has to check and verify the information - which can cause more delay - before being able to make a decision.
By using DirectID we can view your bank statements instantly on line and this enables us to give you a quicker decision on your small business loan. Using DirectID the money could be in your account by the time your printed bank statements would be just reaching us if you applied without it!
Many people have not heard of DirectID and may be a little unsure as to whether or not it's trustworthy. Fair Business Loans is proud to be one of the first financial organisations to implement it in the UK. However, it has been widely used in the US for some time and before long everyone will be using it here. We just got there first!
DirectID is totally secure: all it does is give us read access to the bank statements that we would see anyway. It is actually more secure than posting or emailing your bank statements as either of these methods is easy to be intercepted. But DirectID uses the latest version of data encryption meaning that your data will only be seen by those that you want to see it!
DirectID enables us to make faster lending decision because it provides real-time bank statements that give us the insight we need into your company's current financial position, including income and expenditure. Because these bank statements come directly from the bank, we don't need to take time doing further verification but can use it to make responsible decisions that best match your business needs.
Apart from making the verification process easier for us, the other main reason we are so excited about DirectID is that it makes things easier for our customers! It is simple and friendly to use and means that we can offer you a more personalised service. Instead of having to spend hours checking financial information we can use that time to build a good personal relationship with you and help you move your business forward!
The other benefit to Fair Business Loans of DirectID is that is has enabled us to expand the area in which are are able to operate. Now that we have this state of the art online facility, it means that we can now offer small business loans to customers across the UK on a purely online basis, rather than restricted to our London offices as previously.
The financial future is here and its name is DirectID! At Fair Business Loans we are proud to be at the vanguard of this financial revolution because we believe it will make things easier for our customers. It will get them money they need to support their businesses faster, and enable those businesses to thrive and grow as they deserve.
If you would like to know more about how Fair Business Loans may be able to help you then why not get in touch with us today to discuss your business needs? Our innovative approach may be the key to moving your business forward!