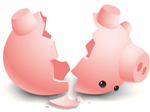 Author: Linda Nwagbogun
In the wake of the credit crisis and the United Kingdom falling into a terrible recession, default rates increased as well as insolvency for both businesses and people. But have you thought for a second what the impact of insolvency does on an individual? How does it affect your future?
What is Bankruptcy?
Bankruptcy is an insolvency that enables a person or a business declare that they can no longer maintain their commitments is a situation or a state in which a person's unsecured debts exceeds the overall value of his/her assets (personal possessions), however if you have personal possessions like house, car, antiques, electrical appliances, and others that can be converted to cash to settle your creditors and you have refused to comply then bankruptcy will not be considered.
How Long Does it Last?
After bankruptcy have been declared upon you, your debts will be written off by your creditors and then you can have a fresh start, although there will be a 12 months restriction period following the time when bankruptcy has been declared and notification will be sent to you when you have been 'discharged'.
An official receiver is assigned to your case (not always), which will conduct a thorough review of Bankruptcy application you may be discharged from bankruptcy within a year.
If the official receiver is certain that you have been dishonest during your period of bankruptcy, they can ask the court to extend your restriction to anything up to 15 years.
How to Apply to Become Bankrupt?
You can make an application to become Bankrupt at your local court. It will vary on how your application will be processed by the court, since some may permit you to come in anytime while others may prefer the appointment system. Therefore it is necessary to contact the local court by phone before visiting the court.  Include a reference to the court form and that you can seek free advice to get help in completing it.
The Cost
To be able to file for personal bankruptcy a total fee of £705 must be paid which is split between the court (£180) and official receiver (£525).  You will be exempt from the court's fee if you are a low income earner or receive benefits or pay a reduced amount.
To apply for exemption from the court fees or pay a reduced amount of court fees, ask the court for Form EX160 for more details. Make sure you can cover the Official receiver fee before you apply for bankruptcy, if you don't  have the funding for the Official Receiver fee then apply for debt relief order (that is if your accumulated debt is ≤ £15,000).
If you are in a situation where you don't have enough money to cover the Official Receiver fees because your accumulated debt is over £15000 and family members or friends cannot help either, in some rare cases you may get help with the bankruptcy fees from organisations that offer benevolent and trust funds.
Effect on YOUR Credit Report
Once you become bankrupt it will state this on your credit report for a period of 6 years. If you have been subject to further restriction then this will be for the period of the restriction. Therefore if you apply for a credit during this period, lenders will be able to see the bankruptcy order on your file and there are chances that they either refuse to lend to you or offer to charge a higher interest rate. But once the bankruptcy order is over 6 years, it can be removed from your credit report and then it will be easier to obtain credit.
Restriction on Borrowing  whilst bankrupt.
If you are subject to a bankruptcy order and wish to obtain credit to the extent of the prescribed amount or more (prescribed limit is currently £500), either alone or jointly with another person, you must disclose the fact of your bankruptcy to the lender from whom you seek to obtain credit. Failure to disclose the fact of the bankruptcy will render you (the bankrupt) guilty of an offence. The Official Receiver (OR) should note that although credit might have been incurred contrary to the law, it is still a valid post-bankruptcy debt for which you (the bankrupt) remain liable.
The £500 limit is sum of the debt incurred with a single lender but the limit can also be reached through series of transactions each smaller than £500 provided that all transactions were with the same lender and sums up to £500 or more; as soon as the limit has been reached, the offence is triggered. Where you  (the bankrupt) have committed more than one offence of this type ( that is obtaining credit from a number of lenders each of an amount or total amount of £500 or more without disclosing bank bankruptcy , then all such offences should be considered together for the propose of BRO (Bankruptcy Restriction Order) allegations.
Do I Continue To Make Payments Whilst I Am Bankrupt?
A monthly sum is expected to be paid by many bankrupts towards their debts. An official receiver is assigned to your case, who will perform a thorough review of your income and expenditure and then come to a decision on how much you are required to repay. You may be discharged from bankruptcy within a year, if you have been considered to have complied with the rules established by the official receiver but you might be expected to continue to make repayments for up to 3 years.
Effect on YOUR Career
Before you apply for bankruptcy you should check with your employer if this would effect your current employment. Whilst you are an un-discharged bankrupt, you cannot become a
Company director
MP
Solicitor
on the broad of governors at a school or place of education
any job regulated by the Financial Services Authority (FSA) but now Financial Conduct Authority (FCA)
An estate agent
A trustee of a charity
Member of a parliament
Advice On Bankruptcy
Declaring yourself bankrupt should not be taken lightly or jumped into. It is necessary to seek free, confidential and professional advice to find out if this is the best debt remedy for you. Fair Money Advice (FMA) has competent and professional debt advisers who will be able to provide appropriate solutions to your debt problems.
Fair Money Advice 
530 Commercial Road
London E1 0HY
T: 0207 702 8032
follow Fair Money Advice on twitter for more blog updates @FairMoneyAdvice