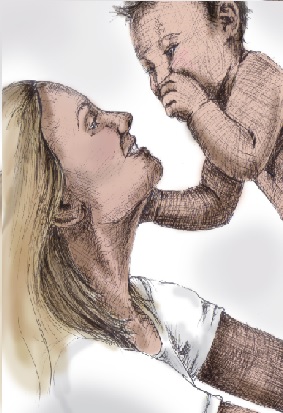 Want to know about how we lend a helping hand? Here we have a story about the impact one of our personal loans had on Jenny*, a new client who came to Fair Finance for a £300 loan for home improvements.
Jenny had just moved from a hostel with her son to their own house. She was so relieved to finally move to a place that she could call her own. The hostel wasn't an ideal place to be with a baby, especially as her baby had a life threatening illness. Furthermore, the hostel couldn't accommodate the medical equipment that her baby required. Jenny also revealed that living in a hostel meant signing in and out and having to adhere to certain rules. Now she doesn't have to worry about what she does with her time.
Jenny also disclosed that her unwell baby wasn't her only child. Unfortunately due to circumstances her 3 other children had to stay with her mother. She clearly was going through a really tough time, with being separated from her children and worrying about her baby, and moving house.
After doing an assessment of Jenny's credit history, bank account management and understanding why Jenny needed our help, she was approved. By basing part of our decision on her credit history, instead of her credit score, we were able to see that she managed her accounts very well. Other lenders would not go into depth to understand how client's manage their finances and may just decline based on a score they consider low. We also gained a good understanding of how Jenny manages her bank account. Her direct debits always went through on time and her account was within the arranged overdraft. Jenny did receive a bank charge 3 months ago but since then had managed her account very well.
Fair Finance was the only place that Jenny could come to for a fair and responsible decision. Mainstream lenders may have declined her due to her low credit score and other lenders may have declined her because her sole income is benefits. She could have fallen prey to a high interest lender and paid an extortionate amount for a relatively small loan. Luckily Jenny heard about us from her friend that we had already helped and trusted that we'd be able to help her too.
Jenny wasn't just grateful for a loan that many may consider a small amount, but also for having someone to talk to and for being treated fairly. She was anxious that she wouldn't be approved because of her low income and bad credit score. However, once she met with her loan officer she learned that we are here for people like her and that we don't just base our decisions on one certain thing, but the whole situation.
Jenny left feeling a little less weight on her shoulders knowing that things were improving for her. We were happy to be there in her time of need.
*not client's real name
By Soomaiya Syeda