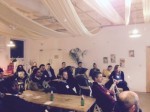 Fair Business Loans has teamed up with Bootstrap Company & Real People for our second skills sharing and networking event for local businesses.
Following on from the success of the last Let's Do Business Together event, the 1st week of February saw Fair Business Loans and Bootstrap co-hosting the second event in the series. Set against the artful décor of the Merci Marie café, the event had a lovely atmosphere, perfect for informal discussion over delicious food and complimentary drinks.
The aim of the Let's Do Business Together event series is to assist small businesses in developing their working practices through providing free expert advice and an opportunity to network, create contacts and share experiences with other businesses. The aim of this series perfectly combines the aspirations of the two organising companies: Fair Business Loans is an award-winning social business providing fair and transparent unsecured business loans to businesses excluded by conventional credit providers, whilst Bootstrap is a social business supporting small enterprises, and - you've guessed it - award-winning too!
The theme of the first 2015 event was Managing People - a relevant and pressing issue for any business growing beyond the capacity of one exhausted and overworked founder. The keynote speaker - Luke Watkeys of Real People, a human resources consultancy - spoke of the main things to remember when hiring and managing employees, and the most common pitfalls befalling novice managers.
The subsequent quick but informative talks covered a fascinating bouquet of issues. Oliver Benjamin of A New Direction described good practice when hiring interns, and Adam Flight of HR Insight spoke of the challenges and risks of employing your first employee. Anna Allan told us about the innovative Hackney 100 programme, providing young people with valuable work experience in Hackney, and Georgina, Junior and Takiyah related their experience with the Bootstrap Campus programme.
Many of the speakers stayed behind and spent some time chatting with attendees and organisers, exchanging business cards and sharing their individual experiences and stories.
Let's Do Business Together events will be run regularly during 2015, and we expect to hold the next one at the roof garden on top of the Fitzroy Building! We expect that the content and atmosphere of the event will be as unconventional and entertaining as its location – so don't forget to check in with us regularly to avoid missing out. You can do this by visiting our website, following us on Twitter, Facebook or subscribing to our blog!
If you have any questions about the event series, would like to partner with us or speak at one of our events, email fbl@fairfinance.org.uk and we'll get back to you as quickly as we can.