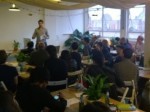 On Wednesday 15th October 2014, Fair Business Loans was delighted to co-launch a series of free business events called Let's Do Business in collaboration with Bootstrap, another award winning social business supporting enterprises. In fact we recently helped Bootstrap themselves to finance their own future which you can read more about in our upcoming blog.
The aim of the events is to enable businesses to develop their working practices through accessing expert advice and to also network and connect over complimentary drinks with other businesses who they might also collaborate with or do business together in the future. These events aren't just open to our unsecured business loans clients but also to local businesses in the area.
The theme of the last event was around accounting and finance and started with a keynote address by James Gout, Senior Business Advisor, Barclays Bank, followed by quickfire introductions from several others including Fair Business Loan's very own Robert Benfield. There was then plenty of time for informal networking and drinks.
Let's Do Business events will be run regularly during 2015, and the next one is to be held on Thursday 5th February, involving Bootstrap, Fair Business Loans and Real People. It will focus on the topic of "Managing and Employing People" and will cover a broad range of issues, from a small company looking to hire their first employee or taking on interns to performance management of your employees. As last time there will be a number of guest speakers, including Karen Austin from Real People, Oliver Benjamin from A New Direction, Anna Allan from Hackney 100, and Henry Trew from Bootstrap Campus and Adam Flight from HR Insight.
Make sure to book a free ticket to the event. We hope to see you all at the event!