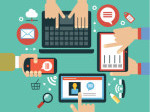 So, your business is growing and you have great plans for the future! Now it's time to make it happen! At Fair Business Loans we always base our small business loan decisions not only on the financial position of the business but also on how much confidence we have in the vision and leadership of the business. We thought it would be useful in this article to look at some online tools that could be really helpful to you in moving your business forward. We'll look at the following 5 areas:
Marketing
Sales and Customer Support
Financial and Legal
Human Resources
Technology and Operations
Marketing
One of the crucial areas for your business! You need all the help you can get to let people out there know who you are and what you do, and also keep customers coming back to you for more!
Sales and Customer Support
These tools enable you to generate sales, handle then promptly and efficiently, and provide excellent customer care during and afterwards.
Financial and Legal
It's essential to keep on top of the finances of your business and also ensure that you are adhering to all legal requirements. These tools can help you do just that!
Human Resources
Streamline your human resources processes with some of the following innovative tools!
Technology and Operations
It's vital to keep the back end of the business working as efficiently as possible to underpin everything else that you are doing! Here are some ideas for tools to help you with the operational and technological side of things!
We hope that some of these tools are useful in helping you run your business more efficiently and that you will see things move forward another step! If as a result you need to source further funding for small business then do get in touch with us and we'd be happy to talk through your needs in more detail.