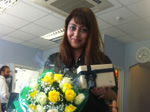 Image: PLO Rijia receives a token of appreciation from her client George.
Trapped in a vicious cycle of Payday Loans – PLO Rijia's Story.
In the summer of August 2013, one of Fair Finance's Loan Officers, Rijia , had the pleasure of meeting a client named 'George' (not his real name).
George and his partner had unfortunately found themselves trapped in a vicious cycle of debt, due to outstanding Payday Loans. Unless you've been living under a rock (mind you don't scratch yourself), most of us will have heard or come across the recent furore regarding Payday Loans. From Politicians to the Archbishop of Canterbury, nearly everybody in the public eye has added their two cents. But – and this is a big BUT – how many of us really understand and appreciate the consequences of Payday Loans? How do Payday Loans really affect everyday folk? And how can you get out of the cycle? This is what Fair Finance gets to do almost everyday. We meet the financially excluded, and the financially exploited, and try to offer help where they would otherwise be denied. Meeting George and his partner allowed both Rijia, and the rest of Fair Finance to really understand the detrimental effects of Payday Loans, the speed in which the problem can grow, as well as further appreciate the life changing impact that Fair Finance has on some of its clients.
Now- back to George. George and his partner had accumulated a whopping £5000 in debts from Payday Loans. They originally had a credit card with a balance of £7000 and had been paying £100 per month.
Now- back to George. George and his partner had accumulated a whopping £5000 in debts from Payday Loans. They originally had a credit card with a balance of £7000 and had been paying £100 per month. As they neared the end of their term, their credit limit had been decreased, and they were told to consolidate the last part of their credit card.
They felt their only option was to turn to a Payday loan.
They then realised they'd have to consolidate the payday loan with another payday loan, and that's how the vicious cycle began. From then on the couple needed to consolidate each payday loan with a new one. As a result they had been trapped into the process of paying roll over fees, only able to access high cost lenders and had to keep borrowing further loans to clear their existing loans. As some of us may already know, it is fairly easy to access several payday loans at a time, so that you can use one to pay off the other and never having enough to clear the capital. However, this only serves to worsen your situation and lead to your total debt increasing rapidly, to the point where it becomes unmanageable. This is the dire situation that George and his partner had found themselves in, and came looking to Fair Finance for help.
Our Loan officer Rijia correctly judged that George and his partner were honest and hardworking. They both had good full time jobs, a mortgage, and several repayments. They were also very truthful and open about their problem, how it happened and their strong to desire to break free from this viscous cycle. George revealed that his partner and he were paying out a shocking £2673 a month to Payday lenders. What's more- these monthly instalments did not even serve to reduce their outstanding balance, but were only covering the roll over fees. What was really impressive was that George and his partner had never missed a payment or commitment to a lender, but their credit rating had been destroyed by the payday lenders. Unfortunately, in any other situation George and his partner may have been swiftly shown the door without even so much as a pat on the back, due to the intensity and nature of their debts. ( Harsh- but true). But not at Fair Finance! One of our core values is to listen and understand our clients, and we push ourselves to devise the best possible solution. Personal Loans Officer Rijia took the time to investigate the case in great depth, and explored every avenue possible. She looked at advising him to seek advice and was able to help with some of the debts, but the others needed to be cleared and George needed his credit rating improved in order to get back into mainstream finance. Rijia decided that the best solution was to consolidate the full £4000.
"I truly believed my client and his partner deserved a second chance. They displayed drive, determination and perseverance in wanting to get themselves out of the vicious "payday trap", and I am very grateful that Fair Finance also believed in the client's need and we managed to help them a great deal."
Rijia , Personal Loans Officer
It's hard to explain how happy George and his partner were after they received approvals for two loans. Now they are paying £260 a month instead of £2673- saving £2413! They aren't living in fear of losing their home or mortgage and can continue to enjoy life again- and we are thrilled to have had the opportunity to help. What's more we've done this while improving their credit file and hopefully giving them a route back into the mainstream finance world.
* Note: Client names have been changed to protect privacy.
By Yasmin and Soomaiya.