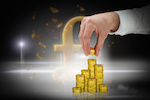 George Osborne's recent Autumn Statement hit the headlines primarily for his unexpected decision to scrap his planned £4.4 billion cut to tax credits, which are the second highest welfare cost, topped only by the cost of the state pension. His rationale was that the stability of the economy and the holding of interest rates at a record low means that more money available than had been anticipated.
Other headline-grabbing measures included no cuts in police funding, and changes to stamp duty rates for the buy to let and second home market. But what about small businesses? What was in the Autumn Statement for them?
In his statement, George Osborne described the government as the "builders of a better of a future". He outlined six measures designed to support small businesses:
Small business rates: The doubling of small business rate relief in England will be extended to April 2017, and a full review of business rates will be undertaken and the results announced in the 2016 Budget.
Driving North: The government will invest £400 million to help small businesses in the North grow and will also invest a further £13 billion to improve the transport infrastructure across the North by 2020.
Enterprise Zones: 8 existing Enterprise Zones will be redeveloped and expanded, and a further 18 will be created. Of the total of 26 Enterprise Zones, 15 will cover smaller towns and rural areas which will enable a total 108 sites to benefit.
Apprenticeship Levy: From April 2017 the levy will only apply to those businesses with payroll greater than £3 million, around 2% of UK businesses.
Making tax digital: Small businesses will be able to manage their tax and tax returns online by 2017. HMRC are currently making changes that will result in it being "one of the most digitally advanced tax administrations in the world".
Start Up Loans: The government has a target to provide 75,000 start up loans by the end of this Parliament.
We welcome these measures and look forward to seeing how they enable small businesses to develop and grow. We will report further on these measures and how they are affecting small businesses in future blogs.
Meanwhile, should you decide that now is a good time to expand your business then why not get in touch with Fair Business Loans today? We'd be happy to talk through your plans and see if we can help you to move forward with a small business loan to get 2016 off to the best possible start for your business.