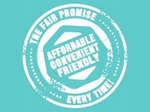 Over the last year there has been a radical change in regulations for high street lenders because of the high repayments, late fees and irresponsible lending. All the while Fair Finance has been at the forefront of tackling financial exclusion while maintaining tailored personal loans and advice. What does this mean for you, our potential and existing clients? It means that there are safe options for personal finance. Whether you have an emergency or want to refresh your home you can be sure that your loan repayments will be painless. You can be sure that you won't be taken advantage of.
A lot of people come to Fair Finance afraid of how their credit score will affect our decision, having been turned down elsewhere because of it. Instead of basing our decision on your credit score we give you tips on how to improve it. We are fully aware that it doesn't always reflect your capacity or commitment to pay. This comes as a surprise to most customers but it has been practice at Fair Finance for a decade.
Often we learn of lenders that will not lend to a person because of the type of income they receive. We believe that it is unfair to exclude people because they don't receive a certain level of income. Whether you work full time or you receive Job Seekers Allowance, we will find a solution for you. Giving everyone an equal opportunity to access finance is our main objective. Can't say fairer than that!
Last year one of the biggest high cost lenders was fined £220million for lending irresponsibly. They gave loans to people who simply didn't have the means to pay them back. The repercussions on consumers that have been lent to irresponsibly are potentially detrimental. One consequence is that customers of pay day lenders would fall into a spiral where they'd need to take a loan every month to keep up with paying for essential living costs, while their real income was servicing loans. Essentially, consumers are taken advantage of. This is bad practice and isn't acceptable. This is exactly the reason for the face to face, tailored service that Fair Finance provides. Our main interest is ensuring that you are okay. If we know that you could access cheaper finance we will tell you, even if that means losing a client.
So why do we do this? It's simple. It's because we believe in Fair Finance. We aren't a profit driven organisation. We are a people driven organisation. All our profit is reinvested back into our work so that we can keep helping our existing customers and branch out to help new ones too.
What's in it for you? Financial inclusion, access to credit, fair treatment and a place to go for free honest advice and help. We have shown the high cost industry that their bad practices won't be tolerated but now we need you to help us raise the profile of fair lenders like us.
By Soomaiya Syeda