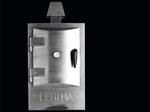 Fair Business Loans' mission is to provide small businesses with unsecured loans of up to £20,000. We review applications and approve them through a non-automated process which allows us to evaluate the affordability of a loan, helping your small business move along the right path to expansion and growth.
Bertha Ovens is an example of a small business that applied for a Fair Business Loan. The owner, Spyros Alexander, manufactures high-quality ovens straight out of his Wimbledon workshop, selling these charcoal ovens to restaurants and professional kitchens. Offering an alternative to more expensive competitors, Spyros is a confident salesman and manufacturer and we were impressed by his professionalism upon visiting his workshop. He showed us the process involved in making one of these ovens, from the welding and assembling to the logistical side of selling his product.
Additionally, he demonstrated the expansion potential of the business—reaching into the new trend of fine chargrilled cooking methods. His passion for the product and its expansion potential impressed our team, prompting us to give him a loan enabling him to import more stock for assembling and selling his high-quality ovens, as well as demonstrate its uses at various industry shows. Business Loans Officer Bassel Deeb was impressed by Spyros' salesmanship and confidence in his product. We feel privileged to have been able to help Spyros in his professional career.
Bertha Ovens has received praise from food critics such as Giles Corens, who upon reviewing John Doe in Notting Hill stated 'Out of Bertha's glowing belly came some extremely good stuff.' If you own a restaurant, or know someone who does, this professional and award-winning oven is a great addition to your kitchen. Inquire today about Bertha Ovens at http://www.berthaoven.com.
Does your small business need a loan? Do you know someone whose small business would benefit from additional funding? If you would like to find out more about how a loan could help your business expand and grow, please visit our Fair Business Loans website to fill out an application or speak to a member of our team on 020 8988 0627 today.