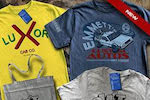 Dark Bunny Tees was established in 2009 where the entire company was run by one person from his home. The business sells t-shirts which are inspired by movies. Rather than offering t-shirts with generic film logos they are tailored so that subtle signs and unique designs are used for purist fans.
They also make sure that they are attractive and would be considered "cool" by people who have not watched the movies.
The business has gone on to trade out of separate premises and now has a team of three who design, print and ship t-shirts. To go from working individually from home to managing an operation that distributes across the country shows that the business really can grow and the capital injection was useful.
The initial loan has been repaid and a second loan has been granted. Since the first loan, turnover has increased by more than 60% and the business has clearly proved it is creditworthy.
"The loan from Fair Business helped in a year of massive and expensive expansion in 2016. With our hand a bit forced in moving out of our old premises, we weren't financially prepared for such a move, so the loan helped grease the wheels."
Alex Chenery, Owner Dark Bunny Tees