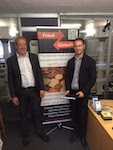 Fair Business Loans provide unsecured small business loans of between £2,000 and £20,000 to London-based businesses which have been trading for 12 months or longer. We were recently delighted to be able to support a fraud consultancy business - based in Islington, North London - with a small business loan to help with cash flow.
Fraud Consulting Ltd provides specialist management consultancy services for the detection of fraud and cybercrime and has worked with a number of household brand names. Due to the irregular timings of contract payments, the company required a small amount of working capital to underpin cash flow and help with the day to day costs of operating the business.
Fair Business Loan's Rob Benfield and Michael Guellard visited the company at its North London headquarters to meet owner Darren Hodder and gain a better understanding of the business and its needs. This is a standard part of our decision-making process when considering loans for small businesses. We consider each application on an individual basis rather than with fixed loan criteria. We will always come out to see you and your business to help us understand your circumstances and requirements . In the case of Fraud Consulting Ltd we discussed Darren's plans for going forward and were then both able and willing to support the company with a small business loan to support future growth.
Darren - pictured with Michael Guellard - commented that he was "impressed with the quick turnaround of the Fair Business Loans application process". He has exciting plans to grow the company through hosting monthly forums for UK businesses on the topic of fraud prevention and by taking on larger consultancy contracts. If you require operational reviews, internal investigations, project management or training from an expert in this field then contact Fraud Consulting Ltd on 020 3239 4714 or visit their website.
For more information about how Fair Business Loans can provide funding for small businesses call 0207 988 0627, email fbl@fairfinance.org.uk or visit www.fairbusinessloans.org.uk