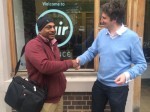 Fair Business Loans are delighted to announce support for the owner Yogan, and his business Yohaan Property Maintenance, based in the Leytonstone community of East London.
Yohaan Property Maintenance has been successfully providing high quality residential refurbishment and maintenance in East London for the last decade. It now has established relationships with several housing associations, on top of doing individual work for private homeowners and small and medium sized businesses.
With a successful track record, Yohaan Property Maintenance is attracting an increasing number of larger maintenance and refurbishment contracts and with additional working capital finance has the potential to grow significantly, which is why Yogan got in touch with Fair Finance.
On our way to visit his business we initially thought we had got lost, but tucked away off a residential road was a small car park and some business units where Yogan has his office and parks his two maintenance vans. We must say that Yogan's office is one of the tidiest and most organised we have come across when we are out and about visiting local businesses (and it is definitely more organised than our own!).
Getting to know Yogan was great fun as not only is he enthusiastic and dedicated to running his business but he has a good sense of humour and was always joking with us while still taking our questions seriously and providing us with everything we needed to know about his business.
We were very keen to build a long term relationship and agreed to provide the working capital support his business requires for its next stage of growth. Yogan soon visited us at our offices in Dalston to sign an agreement and we were all very happy with the outcome, as can be seen by this picture!
Armed with the capital he needs to continue to expand his business, Yogan can now focus on the most important side of his work, providing excellent property maintenance services to the population of East London!
Over the next 12 months, with the support from fair Business Loans, Yogan is hoping to take on 2 new local apprentices in Leytonstone and expand his team which is great news for both the local community and the wider British economy!
If you would like to contact Yohaan Property Maintenance to enquire about their property maintenance services, the company's contact details are: http://gasandheating247.co.uk or 020 8988 3237.