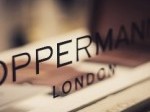 At Fair Business Loans our aim is to offer small business loans with a difference. We aim to be responsible, sustainable and transparent in everything we do, and look for businesses that share this approach and with whom we can develop good working relationships. Also through our funding for small businesses in local communities Fair Business Loans helps to bring employment and needed services to these communities, helping to build local economies and create wealth and prosperity.
One recent example of our small business funding is Oppermann London. Oppermann is a fast growing designer and online retailer of high quality leather accessories for the discerning gentleman.
The company was founded by Swedish born German brothers Niklas and Mattis Oppermann who reside in trendy East London. Having spotted a gap in the market for an affordable quality leather laptop case, they set about creating a solution utilising a combination of minimalist Swedish design ethic and London style matched with German reliability.
Early demand clearly proved there was a market in the gap as the brothers successfully raised over £28k through a KickStarter campaign which enabled the company to launch its first full range of bags, folder and wallets. Having successfully fulfilled the KickStarter order, Niklas began seeking finance to help fund a larger stock order as demand for Oppermann London products continued to soar. Having assessed a range of options, Niklas decided that a Fair Business Loan offered the best value with transparent rates and quick application process.
At Fair Business Loans it can take as little as 10 days, from you enquiring about a small business loan to the money being made available. The speed of the process is dependent on how quickly you can provide us with everything we need to undertake our assessment and make a decision. In the case of Oppermann, a 30-minute telephone call followed by a face to face meeting to discuss the proposal in more depth and sample the quality of the products were all it took for us to agree to provide small business funding.
Senior Loan Officer Michael Guellard, who worked with Niklas to fund the application, commented: "It's great to be able to support a growing business like Oppermann London who have not only created a fantastic range of products, but have also invested their time and skills to create a viable business with a thoroughly thought out manufacturing, ordering and delivery process coupled with encouraging financial performance. Hopefully our funding can fast-track their growth and help establish Oppermann London as a household brand!"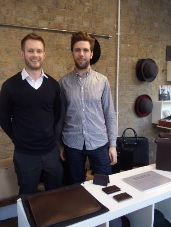 Michael (pictured, left, with Niklas) visited Oppermann at their pop-up shop on Redchurch Street shortly after the business loan was completed. A two week stint in a dedicated store provided the brothers with an opportunity to show off their full range to both passers-by and their established community of online followers who also stopped by to see the products in the flesh.
To find out more about Oppermann London and to see their full range, visit their online shop at www.oppermann-london.com.
Need support to fund your growing business? Apply now for a Fair Business Loan and get a great deal with a personal touch!