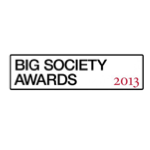 For those new to the world of Fair Business Loans we wanted to highlight one of our great achievements from last year! In 2010 Prime Minister David Cameron set up The Big Society Awards. These awards were created to recognise and celebrate individuals, groups or organisations doing exceptional work in their community, going above and beyond to make things better for others.

The Big Society awards focus on 3 areas:

Outstanding contribution to community.
Improving lives and society through innovation, collaboration and new partnerships.
Engaging in social action.

Fair Finance - of which Fair Business Loans is part - was proud to receive a Big Society Award last year!

Presenting the award, Prime Minister David Cameron said that Fair Business Loans "has supported 200 London businesses to access the finance they need to get started or grow." He then added that "Britain is in a global race and our small businesses and entrepreneurs are vital to helping us compete and succeed. I'm delighted to be recognising the boost Fair Finance provides with this Big Society Award."

Accepting the award, Faisel Rahman, CEO of Fair Finance, said "The growth of the high cost credit market has shown how hard it is becoming for many people to access mainstream finance. Our ambition is to work with those not able to access traditional financing products, in many cases alongside banks, to help them achieve their business aspirations and avoid these high cost lenders.

In 7 years of operations Fair Finance has been able to provide a socially responsible alternative to high-cost lending for thousands of Londoners. Increasingly, entrepreneurs and small businesses have been asking for our support to help them build and grow. Our success in bringing finance to the excluded, responsibly and affordably has helped build confidence in this sector and demonstrates to the mainstream lenders the potential that we know exists. Our objective is to help businesses and individuals through this investment – to provide a catalyst to lending and reinvest into the local economy."

At Fair Business Loans we are pleased and proud to be associated with the whole ethos of Big Society. We are determined to lead the way in providing small business funding on a fair basis. When we have helped to put the loan sharks and predatory lenders out of business, then we will know we have been successful!

If you would like to talk through in more detail how we might be able to help with funding for your small business contact Fair Business Loans now!