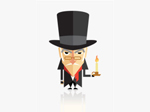 At this time of year the usual repertoire of Christmas songs, films, shows and stories does the rounds once again. One of the old classics is A Christmas Carol by Charles Dickens. The story starts off with the central character, Ebenezer Scrooge. Scrooge is described as "a squeezing, wrenching, grasping, scraping, clutching, covetous, old sinner!" and his attitude to Christmas is "humbug!". He is visited by the ghost of his former business partner Jacob Marley, who tells Scrooge that he will be visited by three spirits that night, and that he must listen to them or be cursed.
Scrooge does indeed meet three more spirits that night. The Ghost of Christmas Past takes Scrooge back to his experiences of Christmas as a boy, when he was both more innocent and much kinder. The Ghost of Christmas Present, takes Scrooge to several different scenes to show him the consequences of some of his miserly ways. Finally, the Ghost of Christmas Yet to Come, shows him Christmas Day one year later and the disastrous way things will go if he continues his current way of doing things. Scrooge is convicted and changes his ways, becoming a kind, generous, and compassionate man who embodies the spirit of Christmas.
How would you and your business fare if visited by these three spirits? How does where you are now fit with the hopes and dreams you had in the early days of your business? Are you comfortable with the way you do business or are there areas you could improve? Are there business decisions and practices that you need to get back on track now in order to prevent you running in to major issues in the future?
Many of the disasters Scrooge was shown by the Ghost of Christmas Yet to Come were direct consequences of the lack of funding he gave to others. This strikes a chord with us for two reasons. Firstly, because we know that new business loans can be hard to come by and that many businesses who are excluded by the mainstream finance organisations struggle because of that.
Secondly, because so many of those finance organisations operate on a very prescriptive basis, for example many base their decisions on whether a loan applicant has bad credit score, and these organisations are not - for any number of reasons - able to "think outside the box". Tremendous investment and business partnership opportunities are therefore missed on both sides, and potential future achievements sadly curtailed.
At Fair Business Loans we will work with you - whatever the history of your Past or status of your Present - to journey together into the Future. Let's delight the Ghost of Christmas Yet to Come with some amazing business successes during 2015! Contact us today to make this Christmas Present your best yet!