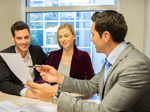 So, the last budget of this Parliament has come and gone. Chancellor George Osborne outlined some incentives for small businesses from the next Parliament, including replacement of the annual tax return by an online payment and recording system, the abolishment of Class 2 national insurance contributions for the self-employed, and a much-needed review of national business rates.
If, in light of these changes, you are considering expanding your business, you may be seeking additional funding through unsecured business loans. Look no further than Fair Business Loans! We offer small business loans between £2000 and £20000 to businesses that have been actively trading in the London area for a minimum of 12 months at the time of application.
Our costs are transparent. We charge 28% p.a. interest on the reducing loan balance and a 5% arrangement fee on approval of a loan. You can see exactly how much this would cost for the amount you want to borrow by using our online loan calculator here. We can process loans quickly: money can reach your account within 10 days of us first receiving your application.
At Fair Business Loans we treat each case on its merit. Our lending decisions are made by human beings not computer systems and, whilst we will obtain information from credit reference agencies, we do not make any decisions based purely on credit scores. Just be honest with us from the start - that is all we ask.
This diagram below summarises six good reasons to apply for a small business loan from Fair Business Loans! To start the ball rolling in your direction, contact us today!