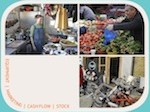 So, your business is at the point where you are looking for additional funding and you are considering searching for a small business loan? Whether this is to fund business expansion or to avoid dipping into savings, it can be a daunting prospect. There are times when you want something flexible, short term or more bespoke; times when traditional funding sources might not be appropriate or hard to come by. This is where Fair Business Loans can help!

At Fair Business Loans our objectives are to:

fill the gap between obtaining funding from the government and banks;
provide an alternative to high-cost online or 'payday' lenders;
give you a flexible and tailored product to fit your business needs
give individuals / businesses that have experienced financial difficulties a second chance.

The process of applying for a small business loan with Fair Business Loans couldn't be easier. Visit us in person at one of our branches - Dalston, Limehouse, Thamesmead, East Ham or Elephant and Castle - contact us by phone on 020 8988 0627 or fill out our online application form. Unlike most other UK business loan companies, no lengthy business plan is required.

However you apply, we guarantee that your small business loan application will be decided by real people who will look at each application individually. We are experts at dealing with individual scenarios on a case by case basis and our decisions are not based on credit scores. To make sure we understand your financing needs one of our professional Small Business Loan Officers will come out to see you at your business. We think that's the only way to understand your business.

What's more, we offer a quick turnaround because we understand the importance to you of being able to move forward quickly with your plans. We will visit you within 48hours of a completed application and if we have all the information we can give you a decision within a day! We tailor our loans around you, the borrower, rather than insisting on a format based on our own convenience. We will therefore agree the length, repayment frequency and timing of repayments of the small business loan to fit with you and the needs of your business. Despite all these advantages, you will find that we offer cheaper and more flexible small business loans than online lenders and that we are also totally transparent about charges and costs.

So, back to the original question! If you are indeed considering raising additional finance to move your business forward, why not contact Fair Business Loans today for a refreshingly different approach that is simple, honest and transparent.