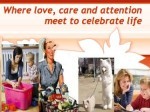 Blessing Agencies Ltd is a new homecare agency based in the heart of Camden focussed on providing friendly care services to locally based clients.
Marie Umuliza, owner of Blessing Agencies, has been a personal client of Fair Finance for over 3 years and during this time has established a strong relationship with the Fair Finance team. While she was visiting one of our network of branches across London she came across a leaflet informing her about the recent launch of Fair Business Loans, a new Fair Finance service providing funding of between £2,000 and £20,000 to London businesses that have been trading for 12 months or longer.
Marie was delighted to discover Fair Finance is now offering business loans as the timing could not have been better. She has been a sole trader for 2 years until recently registering her business as a Limited company and obtaining Care Quality Commission registered status for her agency.
Her expanding business now required investment in additional manual handling equipment to safely move people, and she was starting to wonder where she could go to for support. In particular, she was looking to buy an electric mobile hoist that her care workers could transport and use in the homes of their clients.
Following her completion of a quick online application form for a business loan, the Fair Business Loans team went to visit her at her business premises to meet her in person, ask any remaining questions we had and to understand her business further and see the local area where she operates. She also kindly demonstrated the difficulties of moving a person without the proper equipment on Sam, one of the Fair Business Loans officers!
When we are assessing whether to support a business we look at several key areas:
Character
Marie moved to the UK with her husband from the Democratic Republic of Congo in the early 1990s and funded a university degree in London through doing care work for other people. She continued to work hard to support her family.
She saved up money from her work and decided to use these savings, along with her experience in the care industry to set up her own care agency. In fact, she still does regular nightshifts at a local hospital to bring in additional income on top of running the care agency in the day and at weekends!. Her experience in the industry, her work ethic, combined with her careful financial management and honesty with us means that we judged her to be of excellent character.
Affordability
We responsibly assess and discuss with our clients what they can afford to pay and when they can pay it so that we structure a loan over a period of time and collect repayments at a time that suits them and their business. In this case there is a time-lag between ordering the equipment, it arriving, and the business using it to provide additional client services so we structured a loan with an initial period of two months that was interest only, before starting to collect larger repayments that included the capital being lent. The purpose of the loan is to purchase equipment that can then be used as an asset by the business over a long period of time, so it made sense to look at structuring the loan over a period of 2 years rather than a shorter timeframe. In any case, we don't charge clients if they wish to repay some or all of their loan back early, so Marie has the flexibility to do if she wants to.
We were delighted to offer funding to Marie as she had no problem in convincing us of her strong character, that investing in the hoist equipment would be a good strategic decision for the business, and that the loan was affordable for her. Following receipt of her application we visited her, approved the loan and transferred the money all within a week which was the quick decision she was after.
Marie is now ordering the hoist and is currently recruiting care workers for her expanding business, so if you know someone looking for excellent and personalised care from a small local team in Camden or surrounding areas, or are a care worker looking to join her team then please visit Marie's website which provides full contact details, at http://www.blessingagencie.co.uk/index.html