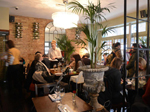 Last month we were delighted to help the award winning restaurant, The Exhibition Rooms, refurbish their bar. Founded in 2008 by Geoffrey Ridgeon and David Massey , the restaurant is located in Crystal Palace, South London and stands out for its amazing cooking, friendly service and elegant vintage atmosphere.
Fair Business Loans' Robert Benfield and Romy Miyashiro were impressed with the Directors experience in the industry. Geoff opened an English pub and restaurant in America in the late 80´s and when he came back to England, he applied this know-how to serve the British market. Additionally, David has a vast experience working as a chef around the world and in London he was Head Chef at The 5th Floor Harvey Nichols restaurant. David was also on TV for 7 years with Jeni Barnett on Great Food Live. It's no wonder why The Exhibition Rooms was awarded Best Local Restaurant in 2009 by Time Out and has great reviews in Trip Advisor and Open Table!
The Exhibition Rooms plays live music and organises private events at the bar. Geoff and David decided that it was time to refurbish it to provide a cosy and relaxing atmosphere to their clients. We were more than happy to help them and we are sure that there will be plenty of successful events for the spring-summer season!
If you are planning an amazing lunch or dinner with family or friends, have a look at their menu:
http://www.theexhibitionrooms.com/
For more information about how Fair Business Loans can provide funding for small businesses call us on 0207 988 0627, email info@fairbusinessloans.org.uk or visit www.fairbusinessloans.org.uk