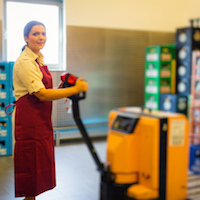 Nazar Wholesale Ltd is a family owned food & beverage distributor and wholesaler that have thrived serving small to medium-sized independent businesses in the Midlands since 2014. Nazar Wholesale started with 6 to 7 clients, using traditional marketing and has grown in prominence in the Midlands.
Nazar Wholesale was in the process of supplying a profitable product to their client base but run into a challenge of revamping their facilities, building a website and a stock tracking system.
Having better facilities and a new website means they can showcase this product in the best light and get more enquiries and new clients. Such an increase in demand needs to be supported by a reliable tracking system.
The task of getting all this done seemed to be a mammoth process in light of their daily demands. Being savvy entrepreneurs, they consulted experts with the aim of achieving this goal.
To accomplish their plans, they needed to raise some extra funds. However, raising funds can be daunting and trying to convince a machine with your project is not easy. That is why at Fair Business Loans we refuse to automate any of our decisions.
We are people, and we like to do business with people. Thus we have a team of dedicated relationship managers who work with the business owners to find them the most suitable solution.
If you think that your business can benefit from extra funding, please speak to a member of our team on 0208 988 0627 or start our hassle-free online application here and we will be in touch straight away.