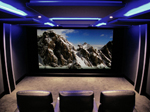 Have you ever dreamt of having a home cinema?
The Media Rooms specialize in 'state of the art' home leisure technologies. These include home cinemas where you can watch your favourite film on the big screen in the privacy of your own home. You can even choose luxurious options such as leather seating or other accessories like popcorn machines.
After talking to owner Justin, we were impressed by the performance of the business and the clarity of the owner's vision and his understanding of the market. With more than 20 years of experience, Justin has managed to grow his business year by year in a consistent way. We were delighted to be able to assist him with the working capital required to continue growing.
If you want to treat yourself or your family with some mind blowing luxurious home technologies or if you love cinemas but whenever you go you wished you and your friends were the only people there, then it is time for you to get in touch with the Media Rooms and visit their website at www.themediarooms.co.uk.
On the other hand, if your business is growing and you feel it is the right time to raise some funds, then our experienced friendly team is here to help. Don't hesitate! Just give us a call or visit our website at https://www.fairfinance.org.uk/business-loans/.